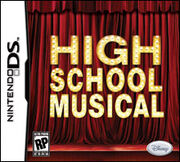 High School Musical: Makin' the Cut! is a Nintendo DS version of the first movie High School Musical 1. It will be developed by Buena Vista Games.
Songs
All the High School Musical 1 songs and 2 High School Musical 2 songs are in the game.
Characters
Bio
The performers begin with Ryan, Troy, Gabriella and Sharpay, but Taylor and Chad is no longer. The non playables are Kelsi Nielsen, Jason Cross, Zeke Baylor, and Martha Cox.
Ad blocker interference detected!
Wikia is a free-to-use site that makes money from advertising. We have a modified experience for viewers using ad blockers

Wikia is not accessible if you've made further modifications. Remove the custom ad blocker rule(s) and the page will load as expected.