Ad blocker interference detected!
Wikia is a free-to-use site that makes money from advertising. We have a modified experience for viewers using ad blockers

Wikia is not accessible if you've made further modifications. Remove the custom ad blocker rule(s) and the page will load as expected.
High School Musical: The Concert involved a 40-city concerts tours, is a concert based in High School Musical the concert visit many cities of the U.S., Canada and Latin America. But the tour had not only the songs of High School Musical and High School Musical 2, it also had songs of Vanessa Anne Hudgens, Ashley Tisdale, Corbin Bleu, and Monique Coleman. Zac Efron, however, wasn't in the tour, because he was in the movie "Hairspray" so Andrew Seeley took his place.
List of songs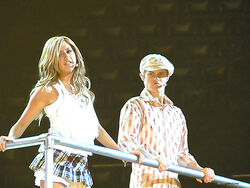 Songs
City Tours
Date
City
Country
Venue
North America
Nov 30 2006
San Diego
United States
San Diego Sports Arena
Dec 1 2006
San Jose
United States
HP Pavilion at San Jose
Dec 3 2006
Phoenix
United States
Jobing.com Arena
Dec 5 2006
Sacramento
United States
ARCO Arena
Dec 6 2006
Stockton
United States
Stockton Arena
Dec 8 2006
Bakersfield
United States
Rabobank Arena
Dec 10 2006
Portland
United States
Rose Garden
Dec 11 2006
Seattle
United States
Key Arena
Dec 16 2006
Bossier City
United States
CenturyTel Center
Dec 17 2006
Dallas
United States
American Airlines Center
Dec 18 2006
Houston
United States
Toyota Center
Dec 20 2006
Tampa
United States
St. Pete Times Forum
Dec 21 2006
Orlando
United States
TD Waterhouse Centre
Dec 22 2006
Columbia
United States
Colonial Center
Dec 23 2006
Charlotte
United States
Charlotte Bobcats Arena
Dec 27 2006
Greensboro
United States
Greensboro Coliseum
Dec 28 2006
Washington, D.C.
United States
Verizon Center
Dec 29 2006
Uniondale
United States
Nassau Coliseum
Dec 30 2006
Manchester
United States
Verizon Wireless Arena
Jan 2 2007
Toronto
Canada
Air Canada Centre
Jan 3 2007
Rochester
United States
Blue Cross Arena
Jan 4 2007
Hartford
United States
Hartford Civic Center
Jan 6 2007
Pittsburgh
United States
Mellon Arena
Jan 7 2007
Albany
United States
Pepsi Arena
Jan 8 2007
East Rutherford
United States
Continental Airlines Arena
Jan 10 2007
Worcester
United States
DCU Center
Jan 11 2007
Philadelphia
United States
Wachovia Spectrum
Jan 12 2007
Charlottesville
United States
John Paul Jones Arena
Jan 13 2007
Cincinnati
United States
US Bank Arena
Jan 14 2007
Cleveland
United States
Wolstein Center
Jan 16 2007
Auburn Hills
United States
The Palace of Auburn Hills
Jan 17 2007
Indianapolis
United States
Conseco Fieldhouse
Jan 18 2007
Columbus
United States
Schottenstein Center
Jan 19 2007
Chicago
United States
Allstate Arena
Jan 21 2007
Milwaukee
United States
Bradley Center
Jan 22 2007
St. Louis
United States
Scottrade Center
Jan 23 2007
Kansas City
United States
Kemper Arena
Jan 26 2007
Anaheim
United States
Honda Center
Jan 27 2007
Fresno
United States
Selland Arena
Jan 28 2007
Las Vegas
United States
Thomas and Mack Center
Latin America
Date
City
Country
Venue
May 15 2007
Buenos Aires
Argentina
River Plate Stadium
May 16 2007
Buenos Aires
Argentina
River Plate Stadium
May 18 2007
Santiago
Chile
Estadio Nacional de Chile
May 20 2007
São Paulo
Brazil
Morumbi Stadium
May 22 2007
Caracas
Venezuela
UCV's Baseball Stadium
May 24 2007
Monterrey
Mexico
Auditorio Coca-Cola
May 27 2007
Mexico City
Mexico
Foro Sol
May 30 2007
Guadalajara, Jalisco
Mexico
Arena VFG