May 27—June 3, 2007
High School Musical is a movie about Troy Bolton and Gabriella Montez auditioning for the roles of Arnold and Minnie in the winter musical Twinkle Towne, against Sharpay and Ryan Evans. It was one of the best Disney Channel Original Movies, or DCOMS, and recieved several awards. It was released in several different versions of DVDs and even had two different soundtracks. Other merchandise was also created.
Along with that, several video games were made, including High School Musical: Sing It! and another game, High School Musical: Makin' the Cut!. The first, Makin' The Cut! will be for Nintendo DS and will come out this August. The second, Sing It!, will be for several platforms and will be released in August as well.
June 4—June 10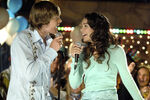 New Year's Eve Party was the party that Troy and Gabriella go to. During this party, both participate in the Rock the House Contest. It consisted of a kid's party in the first floor Freestyle club and the parent's party in the (presumably) second story of the building.
It was the party that Gabriella and Troy first met and discovered their singing abilities. It was hosted by an unknown man. The host predicted Troy and Gabriella may thank him for the singing one day, but he also said they might not. "Start of Something New" was featured in this song. Several other people attended, including Mr. Bolton and his wife. Troy and Gabriella would meet each other again at East High.