Ryan and Kelsi's relationship
Talk

0
239pages on
this wiki
Ryan Evans and Kelsi Nielsen .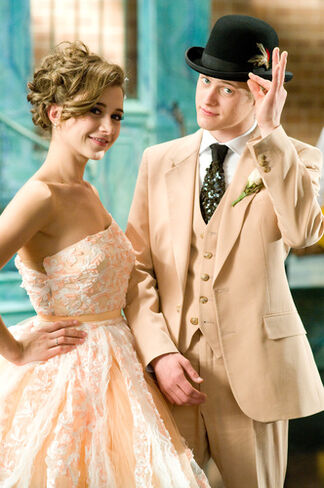 In the first movie, Ryan shows indifference to Kelsi, but they sit at the same table in the cafeteria (as shown just before Stick to the Status Quo), and Kelsie and Ryan share a look while Sharpay oversees the cafeteria, causing some fans to already see a future couple in them. They are a very cute couple and Ryan Evans and Kelsi Neilsen belong together I love her pink strapless prom dress. I wish I knew how to waltz.
In "High School Musical 2", however, Kelsi is shown to have a locker next to Ryan's, and they presumably spent a lot of time together planning how to get Troy and Gabriella back together. In addition, Ryan and Kelsi actually speak to each other during the movies, and it is implied that Ryan supported Kelsi's ideas for the talent show before agreeing to direct the Wildcats ("Oh, hey. Kelsi's got some great new ideas to spice up the talent show..."). They are also the only characters to wear hats regularly, and their hats often match. I love the song Everyday and All for one and one for all.  I have both High school Musical 2 and High School Musical 3 on Blueray. High school Musical 3 three Senior Year is my favorite because I love all of the songs on it especially the 5 songs called Right here right Now, Can I have this dance and Can I have this Dance Reprise, A night to remeber, I just wanna be with u, Walk Away, and Senior Year.
Ryelsi is the pairing in "High School Musical 3", as Kelsi is Ryan's prom date. They sing a duet together (along with Troy and Gabriella) called "Just Want To Be With You", after Ryan is ordered by Sharpay to take Kelsi to prom in order to steal "Just Want To Be With You". Some fans have interpreted this change in pairings to ease parent's fears over a ch

aracter in the series, pointing out that Ryan did not have a girlfriend until the very end of High School Musical 2.Dear, Ryan and Kelsi I loved all the songs that u guys wrote. Ryan how is your relstionship with Kelsi Neilsen?